Untangling the Deal Breakers in the Partially Signed South Sudanese Peace Agreement and the Options on the Table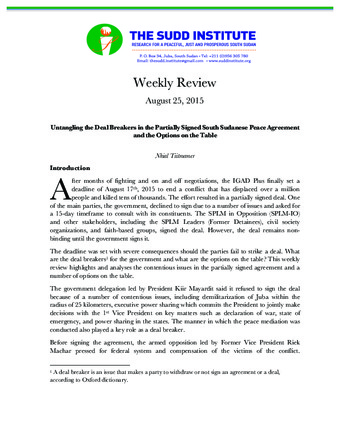 Author: Nhial Tiitmamer
Organization: The Sudd Institute
Type: Weekly Reviews
Date: 25/08/2015
Publication Summary
After months of fighting and on and off negotiations, the IGAD Plus finally set a deadline of August 17th, 2015 to end a conflict that has displaced over a million people and killed tens of thousands. The effort resulted in a partially signed deal. One of the main parties, the government, declined to sign due to a number of issues and asked for a 15-day timeframe to consult with its constituents. The SPLM in Opposition (SPLM-IO) and other stakeholders, including the SPLM Leaders (Former Detainees), civil society organizations, and faith-based groups, signed the deal. However, the deal remains non-binding until the government signs it.
The deadline was set with severe consequences should the parties fail to strike a deal. What are the deal breakers[1] for the government and what are the options on the table? This weekly review highlights and analyses the contentious issues in the partially signed agreement and a number of options on the table.
The government delegation led by President Kiir Mayardit said it refused to sign the deal because of a number of contentious issues, including demilitarization of Juba within the radius of 25 kilometers, executive power sharing which commits the President to jointly make decisions with the 1st Vice President on key matters such as declaration of war, state of emergency, and power sharing in the states. The government is also concerned by the manner in which the peace mediation has been conducted.
Before signing the agreement, the armed opposition led by Former Vice President Riek Machar pressed for federal system and compensation of the victims of the conflict. Federalism has throughout the negotiations proven to be controversial as the parties found it difficult to agree on a particular system of governance. It is also an issue of great concern to many stakeholders beyond the warring parties, particularly the people of Equatoria region, the Nuer and Dinka who have their own understanding of federalism. However, since Dr. Riek's armed opposition has signed the document, these issues have logically ceased to be considered as deal breakers on their sides.
Nhial Tiitmamer is the Director of the Environmental and Natural Resources Program at the Sudd Institute and a part-time lecturer at the University of Juba. Before joining The Sudd Institute in 2013, Nhial spent research and consulting stints at Arletta Environmental Consulting in Calgary and at the University of Alberta in Canada. Nhial holds a B.A. in Environmental Studies with a minor in English Literature from the University of Alberta's Augustana Campus and an M.Sc. in Sustainable Energy Development from the University of Calgary in Alberta, Canada. Nhial is the co-founder of the NewSudanVision.com and has extensively commented and written on issues about South Sudan and Sudan.